It is amazing how fast one week can go and how fast a couple of days can pass even when you hardly even leave the house. I totally missed posting yesterday, but I am back today with my list of 10 things I am grateful for this week.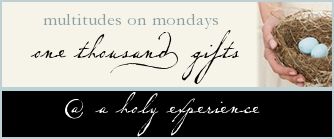 141. My husbands job providing him with overtime so we can pay our tickets to Norway.
142. My husband who works so hard to provide for us.
143. God for always providing for those who ask.
144. My bike and being able to ride it to church on Tuesdays.
145. Friends who appreciate the work I do, supports me and wants me to try new things.
146. Women at church who loves God and follow his calling to serve younger women by mentoring them.
147. Beautiful flowers in the color pink.
148. A lunch made up of leftovers turning out really good, inviting to good conversation.
149. Good results on Sofies blood work.
150. Wonderful neighbors who always wants to help each other.