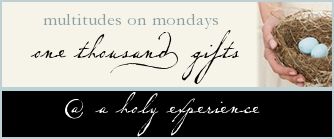 This week I have tried to not down the small things in life
I am grateful for
151. my bike, getting me from A to B and also giving me exercise.
152. my raingear keeping me and my daughter dry when it rains.
153. foggy rain cooling me down when I ride my bike.
154. healthy snacks.
155. good blood test results keeping Sofie off the antibiotics.
156. daffodils and crocus coloring our Sunday walk.
157. days of sun and warmth welcoming spring.
158. my daughters hugging me in the morning out of the blue.
159. Isabel reading for Sofie in the early morning.
160. God treating us with mercy and love, graciously and kindly even though we are still sinners. (Ephesians 2:4-7)