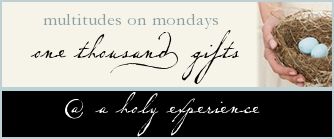 I didn't have time to write this post yesterday as I were outside enjoying the beautiful weather God graced us in the Northwest with.
I am so grateful today for so many things, among others
191. Finding a realtor who cares.
192. Knowing what is up ahead for us more or less.
193. Knowing that God knows what his plan is for us.
194. A little girl wanting to help even with the very hard work.
195. A very little girl who is finally showing the world who she is.
196. A husband who takes charge and cleans our home.
197. Knowing that Jesus is my Lord and Savior.
198. Little girls playing quietly together for hours.
199. My husband wanting me to treat myself to something new.
200. People being so nice and kind when you are nice and kind to them.