As you know I am spring cleaning with Anna from Ask Anna and several other bloggers. Today's task was cleaning our vents.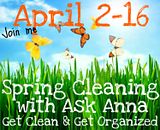 Today we started out the day with Seattle's best Doughnuts. You see mine on the plate behind Isabel's head. It was sooooo good.
Then it was home to clean my vents. I have three of them, one for each bathroom.
In the powder room it was easy as the vent was on the wall. The cover came off easy and I got to vacuum in there and wash the cover. My husband commented on how quiet it ran afterwards.
In the master bedroom I couldn't get the cover off and had to clean it as it was hanging there. I used a microfiber cloth and the dust and dirt came off easy enough.
In the kids bathroom I got the cover off, vacuumed a little in there, washed the cover off and put it back up.
To get to the vents in the bathrooms I had to climb up high. With my 5 foot 2 inches I don't really get to see on top of things very often, but what I saw today really made me cringe.
The vanity lamps were so dusty on top and the light bulbs were brown with burned dust. I scrubbed them of with a microfiber cloth and now they are nice and shiny again.
In the master bathroom there is a window. I can not see on top of the latch normally and today I could see how nasty it actually was. I cleaned every nook and cranny here.
Then on top of the bathtub/shower ledge there were so much dust that it looked like a piece of fabric was covering it. Now it is nice and clean.   
I also got a picture of my bookshelf that I cleaned up yesterday (Tuesday) and I finally got to dust in the kids bedroom.