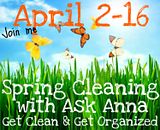 Last Tuesday there were finally weather to clean my windows outside. Well at least the ones I can reach. Even with my extender rod I can't reach the windows that are one floor above me. The inside of my windows I actually cleaned when I washed my curtains. Multitasking you know.
I have two sliding doors. One on each side of my condo and I have always been so annoyed with them being so hard to open and close. Well no wonder when I looked into the track. I have always cleaned the part of the track that is inside showing when the doors are closed, but not the rest of it. It was icky.
I even had to pull out my vacuum to get it all. On Wednesday I did the same thing at my mother in laws house when I cleaned there.
Now my sliding doors are working just perfect and I am so happy that Anna showed me that this actually has to be done. I don't know why I haven't thought of this myself before.
Here are some before and after pictures.