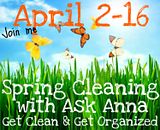 I am trying my best to follow along with Anna's Spring Cleaning at Ask Anna. Her day 5 of spring cleaning is to clean walls, doors, baseboards and touch up painting. I am in a little big of a special situation right now as we are getting ready to put our condo on the market for a short sale.
Every day though I wipe down one spot or another, such is life with young children. Today I will start with the walls, doors, and baseboards in my dining room, kitchen and hallway. There are places I need to touch up on the paint too, but since I will have to finish the trim in the dining room and the ceiling in my kitchen I will wait with the paint till I am done doing that.
I will skip the living room for now as it has to be repainted. The upstairs I will clean the doors and baseboards.
Every wall is now  cleaned off and spackled, but of course my camera is still at my mother in laws…