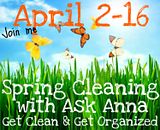 For our last day of spring cleaning Ask Anna wanted us to clean our Washing Machines. She has a great tutorial on how to clean you Top Loader and as I have a brand new Front Loader I thought I would do this one over at my mother in laws.
Every week or so I clean my mother in laws house. Her washer is at least 8 years old and has never been cleaned. I took a look last Wednesday and this is what I saw.
Today I brought over my netbook with Anna's tutorial and went to work. I should of course have brought vinegar since I had a feeling she didn't have it, but I forgot. Instead I used my latest obsession
It cut through all the grime and lime buildup and smelled divine. I am using this cleaner for everything now, but have yet to buy one for my own house. It actually comes in several different smells, but I just love the Pink Grapefruit one. The washer is unfortunately very rusty around the opening and I was not able to remove that.
I ended up cleaning the outside of the washer and drier, the floors and taking care of some spider web here and there.
Of course while hoisting all my cleaning utensils and the kiddo out the door I managed to forget my camera at my mother in laws house. I will have to go back later and get it and then update this post with the pictures that I actually did remember to take.
Btw all opinions about Method is my own and I was not compensated by them by any means, although if they ever wanted to I wouldn't say no.