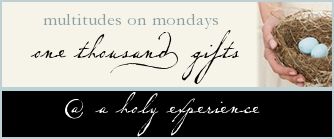 Last week I actually think I forgot to link up to Whole Experience for Multitudes on Mondays One thousand gifts, I was just so busy it is amazing I actually remembered to write my list.
This week has been very busy as well since we have had guests visiting from Norway. I love it when it is busy, but it has been nice having a couple of quiet and calm days.
This week I am grateful for
211.  My cousin and her family having a safe trip and coming here to stay with us for almost a whole week.
212. Children bonding despite of speaking different languages.
213. Toddlers dancing.
214. Cream of wheat filling little tummies.
215. Teacher appreciation gifts for the PTA being all done.
216. Beautiful weather in between all the rain showers.
217. A zoo trip with four little girls.
218. Men bonding as family and friends.
219. Women bonding despite different views on religion.
220. Lam steak feeding many more than intended.