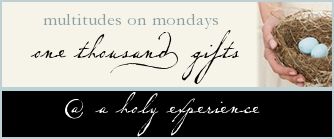 This week I am so grateful for
171. Prayers being answered.
172. Husbands willingness to run errands for me.
173. Great conversations with good friends.
174. Being able to encourage friends I have never met.
175. Busy, but encouraging Wednesdays.
176. Women who would like to serve others at MOPS.
177. Flea treatment that works on my pets.
178. Artwork that turns out meaningful and beautiful.
179. Homemade frappuchino on a dreary day.
180. My mom and her usual frankness.
I couldn't find my handwritten list and I am so tired. This is the best I could do tonight. Next week will be a very special list as it will be posted on my birthday.