After a somewhat busy week I am feeling extremely tired due to lack of sleep and a back that is causing me a lot of pain. It is a little frustrating when you go to the doctor and all the doctor tells you is that the only way to prevent the back and neck pain is to stop carrying the baby. As if I can do that when she just got sick again. Oh well.. I am glad I can look for the little things to be grateful for.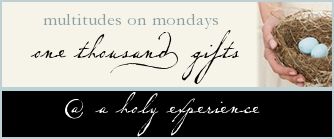 131. My neighbors reading my mind and bringing me and my family fresh homemade doughnuts.
132. A friend coming on a surprise visit.
133. Over a month of my youngest being healthy.
134. Three friends getting married this summer and me being able to go to one of the weddings.
135. New friends appreciating my work.
136. Babysitters that are absolutely fabulous.
137. A mom who is always being generous.
138. Lego.
139. Brio and Thomas the train.
140. 5' 2"  and 151lbs of me.